ENUC : COMMUNITY CHIEF AMONG 10,000 BAPTISED AT THE ENUC FESTIVAL OF BAPTISM
EASTERN NIGERIA UNION CONFERENCE
COMMUNITY CHIEF AMONG 10,000 BAPTISED AT THE ENUC FESTIVAL OF BAPTISM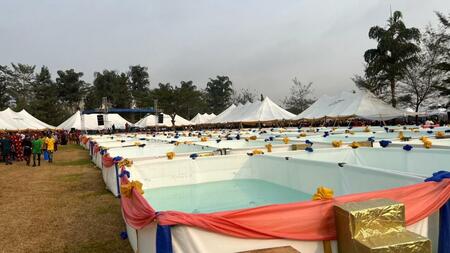 [Photo : Baptistery]
Chief Ikpe Asuquo Umoh of Ikot Idaha in Akwa Ibom State was among over 10,000 persons baptised at the Prayer Conference and Festival of Baptism of the Eastern Nigeria Union Conference (ENUC). Prior to an evangelistic campaign that held in Ikot Idaha from January 8 to 21, 2023, it was an un-entered community.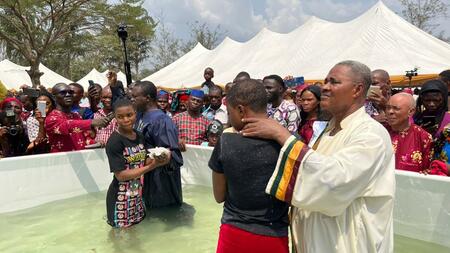 [Photo : Baptism ceremony]
Pastor Gabriel Udofa, Evangelism Director of Akwa Ibom Conference told ENUC Communication that Chief Umoh was so excited about receiving the Adventist message that he was the one of the first to order the centenary uniform and looked forward with excitement to the January 22 baptism.
He also told his village ruling council that it was a huge privilege to have the Adventist message in their community in their lifetime. He urged his village council to donate a parcel of land for the building of the Adventist Church in Ikot Idaha.
Also, from the Mgbuoshimini Centre where West-Central Africa Division - WAD president, Pastor Robert Osei-Bonsu was the speaker, Sister Hope Hojo is among several people who came out to be baptised.
The Port Harcourt District Pastor and host of that centre, Pastor Samuel Iroulor indicated that Hope showed up on Sunday morning saying that she never attended the evangelism ground for one night, but listened all though from her home which was near the campaign venue. 'I am convinced this church has taught the truth and I want to be baptised', Hope urged.
In his exhortation at the prayer conference and festival of baptisms, Pastor Robert Osei-Bonsu, stressed the theme of the celebration, Almost Home, showing that all through the Bible, the life of believers is presented as a journey, a journey that leads to our heavenly home. 'We are almost home. We are not there yet, but we're almost there.'
Pastor Osei-Bonsu, who led 16 other WAD officers and directors to preach at various centres in ENUC showed statistics that indicate that most road accidents happen when travellers are 15 minutes away from home. He stressed that on the journey to the heavenly Canaan, God's children may face obstacles to the successful finishing of the journey.
He enjoined the audience to focus on Jesus who is the guarantee that they can finish the journey successfully and make to God's glorious kingdom.
The January 22 Prayer Conference and Festival of Baptism was the opening event of the celebration of the Centenary of Adventist mission in Eastern Nigeria.
Among dignitaries that graced the occasion was the Governor of Abia State, Dr Okezie Victor Ikpeazu, a Seventh-day Adventist elder at the Seventh-day Adventist Church, Hill-top, Aba.
Eti Chigozi,
Communication Director for Eastern Nigeria Union Conference