Robert Osei-Bonsu, PhD, MED
Robert Osei-Bonsu, PhD, MED, is an ordained minister (August 1998) of the Seventh-day Adventist Church and Associate Professor of Historical-Theological Studies at the Adventist University of Africa (AUA), Kenya. He also serves as Dean of the Theological Seminary and Program Coordinator of the PhD Biblical and Theological Studies. An extensively experienced Minister of the Gospel and University Education Leader, renowned for successfully supporting the achievement of strategic aims and driving sustainability.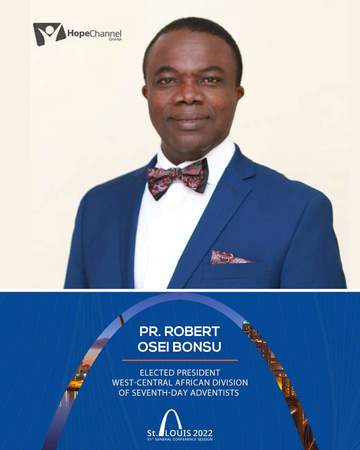 His kills set includes:
pastoral ministry,
leadership and management expertise;
extensive academic achievements;
a diverse publication record;
and considerable teaching experience.
An inspiring and engaging individual who is verifiably able to coach and instill confidence in colleagues,
stakeholders.
Area of professional specialism is religion and theological studies.
A committed Christian who has actively engaged with the religious community throughout career,
integrating faith and learning in various roles,
and is regularly invited to present at seminars and conferences.
Passionate about achieving positive impact and offering a strong commitment to continuous professional development.
DEAN of Theological Seminary at the Adventist University of Africa since January 2021. He served as a Pastor from March 2018 to December 2019 in South England Conference of Seventh-day Adventist Church. He was Pro-Vice Chancellor/ Vice President in charge of Academic Affairs of Valley View University from July to September 2013 and from March 2016 to December 2018. From 2002 to 2018. He served in the Valley View University (VVU), Oyibi-Accra, Ghana. He was the Rector of Techiman Campus from January 2014 to February 2016.
Other details of his professional journey include :
DEAN, School of Theology and Missions (Aug 2010 - Dec 2013)
HEAD OF DEPARTMENT: Theology/Religion (May 2010-Dec 2013)
Aug 1998 – Aug 2002: South Central Ghana Conference of SDA Church, Kumasi-Ashanti, Ghana
YOUTH, CHAPLAINCY, AND COMMUNICATION DIRECTOR/CHURCH PASTOR
Feb 1994 - Aug 1998: Central Ghana Conference of SDA Church, Kumasi-Ashanti, Ghana
ASSOCIATE DISTRICT PASTOR/DISTRICT PASTOR
1990 – 1994 Various church organizations, Ghana, and Sweden (LITERATURE EVANGELIST)
The newly elected President of the West-Central Africa Division likes cooking, counseling, music, and research. He replaces Dr Elie Weick-Dido.



************************************************



ROBERT OSEI-BONSU
Nouveau Président de la DAO
Robert Osei-Bonsu, PhD, MED, est un Pasteur consacré de l'Église Adventiste du Septième Jour depuis août 1998. Il est professeur associé d'études historiques et théologiques à l'Université adventiste d'Afrique (AUA), au Kenya. Il est également doyen du séminaire théologique et coordinateur du programme de doctorat en études bibliques et théologiques. Il est un ministre de l'Évangile et un responsable de l'enseignement universitaire très expérimenté, réputé pour son soutien à la réalisation d'objectifs stratégiques et à la promotion de la durabilité.
Ses compétences comprennent :
le ministère pastoral,
l'expertise en matière de leadership et de gestion,
de nombreux résultats universitaires,
des publications diverses et une expérience considérable de l'enseignement.
L'homme est inspirant et attachant,
capable d'encadrer et d'inspirer confiance à ses collègues et aux parties prenantes.
Son domaine de spécialisation professionnelle est la religion et les études théologiques.
Il est un chrétien engagé dans la communauté religieuse tout au long de sa carrière,
intégrant la foi et l'apprentissage dans divers rôles,
et qui est régulièrement invité à présenter des séminaires et des conférences.
Passionné par l'obtention d'un impact positif et offrant un engagement fort envers le développement professionnel continu.
Il sert comme Doyen du Seminaire théologique de l'Université Adventiste d'Afrique depuis janvier 2021. Il a exercé les fonctions de pasteur de mars 2018 à décembre 2019 dans la Fédération d'Angleterre du Sud de l'Église Adventiste du Septième Jour. Il a été Pro-Vice Chancellor/ Vice-Président en charge des affaires académiques de l'Université de Valley View de juillet à septembre 2013 et de mars 2016 à décembre 2018. De 2002 à 2018, Il a servi à l'Université Valley View (VVU), Oyibi-Accra, Ghana. Il a été le recteur du campus de Techiman de janvier 2014 à février 2016.
Autres détails de son parcours professionnel :
Doyen, École de théologie et des missions (août 2010 - décembre 2013)
Chef de département : Théologie/Religion (Mai 2010-Dec 2013)
Août 1998 - Août 2002 : Fédération du Centre-Sud du Ghana, Kumasi-Ashanti, Ghana
Directeur de la Jeunesse, de l'Aumônerie et de la Communication/Pasteur d'Église
Février 1994 - Août 1998 : Pasteur de district associé/pasteur de district dans la Fédération du Centre du Ghana, Kumasi-Ashanti, Ghana
1990 - 1994 : Diverses organisations ecclésiastiques, Ghana, et Suède (Représentant évangéliste)
Le président nouvellement élu de la Division de l'Afrique de l'Ouest et du Centre aime la cuisine, la cure d'âme, la musique et la recherche. Il remplace Dr Elie Weick-Dido.