ENUC hosts maiden communication and media ministry convention
ENUC hosts maiden communication and media ministry convention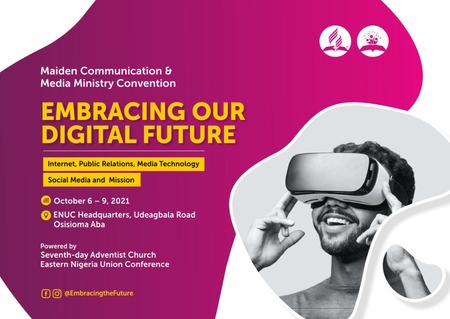 It was an atmosphere of joy and digital consciousness at the Eastern Nigeria Union Conference Headquarters at Aba as Communication Directors from the Conferences, Communication Experts, Pastors and Stakeholders in the communication industry and ministry across the Union assembled for the maiden communication and media ministry convention of the Eastern Nigeria Union Conference.
The Convention tagged "Embracing Our Digital Future" was an opportunity to brainstorm and chat a new course for the furtherance of the gospel of our Lord Jesus Christ in a technology-driven world. About 140 persons from across the Union participated in the Convention.
In a keynote presentation titled Understanding the Contemporary Mission Field, Union President Pastor Dr Bassey Udoh identified five dimensions of the modern mission field to include: Political, Moral, Health, Technological and Religious condition. Pastor Udoh urged participants to understand the time we live in and understand the needs of today's audience so as to develop ministry that is relevant to and impactful on today's audience.
WAD Communication Director, Elder Abraham Bakari gave a lecture on Effective Audience Follow-up in Media Ministry. He joined the meeting virtually. He emphasized the importance of being a true born again as a first step to effective soul winning in media ministry. He urged that participants should manifest professionalism in media ministry. He also urged that media ministers must demonstrate the Jesus' lifestyle, cultivate an undying passion for souls and design audience follow-up strategies anchored on attention, care, and responsiveness.  
In a Sabbath sermon titled "Hush! There is Victory Over the Storm," ENUC Director for Evangelism, Pastor Uzoma Nwosi, urged the delegates to always call on Jesus in times of trouble. Drawing on the story of the stormy crossing in Mark 4:35-41, Pastor Nwosi stressed that Jesus addressed the storm in the same language that He addressed demons when He cast them out. He prayed that the Lord will rebuke every storm in the lives of participants at the convention.
Earlier, Pastor Daniel Oriaku in a devotional message on the theme "Building faith in an Age of Doubts and Distraction" admonished delegates to sing praises to God in all situations, claim God's promises, and pray to God when they are confronted with doubts in order to navigate through perilous times.
Further, Pastor Chigozi Eti, ENUC Communication Director, Elder Azukoye Amadi, (Associate Communication Director for Strategy & Media Technology and Cross River Conference president, Pastor Edy Benard-Ewoh spoke on using the Adventist Identity System, maximising public relations and deploying social media for evangelism respectively. In their separate lectures, they stressed the need for deploying modern tools for mission.
Also, Elder Charles Nwahiwe trained delegates on Digital Marketing Tools for Viral Mission. He stressed the role of Search Engine Optimization in making the three angels' messages go viral.
Another resource person, Mrs Chioma Eti, a pastor's wife, schooled delegates on "How to Make Your Church Attractive". In her lecture, she noted that the communication department can help the Church to set the atmosphere for learning, nurture, growth, friendship and fellowship for guests and regular worshippers.
Moreso, Timi Alfred, Gabriel Chigozie Chukwu and Amamchi Iroulor from Port Harcourt Conference educated the delegates on how to use various Social Media Outlets for Live Streaming and Effective Camera Operation while Chiedozie Brain Nwandieze taught Effective Audio Management for the Church.
Elder Emmanuel G. Manila, the ENUC Treasurer, offered spiritual words of encouragement urging faithfulness to God in response to His own faithfulness while Sister Arionin Blackie Obolo, the Associate Secretary, gave update on the nascent Adventist Church Management System (ACMS) calling for the cooperation of the communication department in deepening membership enrolment on the database system.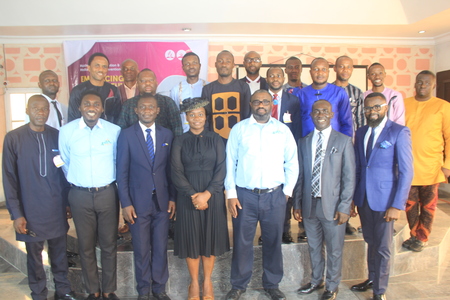 [Photo: Family picture]
Story by
Destiny Chigere Jumbo, Frank Nwaforbe and Chigozi Eti