OYiM program 2021: young people plant a church in Ndjolé, Gabon
OYiM program 2021: young people plant a church in Ndjolé, Gabon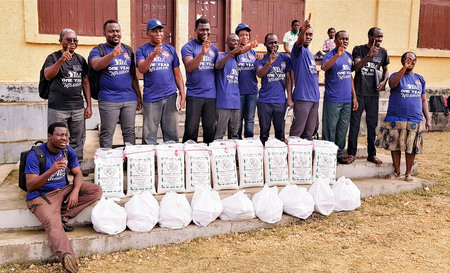 [Photo: Family picture]
Nearly forty young people responded, in collaboration with the Global Mission Department to the call of the OYiM program for an evangelical hike in the city of Ndjolé, in Gabon.
In August 2021, the Gabon Mission organized an OYiM missionary program, which included young people ranging from four to sixty years old. The method used because of the Covid-19 pandemic, was that of "small groups of evangelism". Each group was responsible for leading a Bible talk in the various homes where missionary contact were made.
In order to accomplish this evangelical exercise the way it should be, the different groups were composed of a preacher, a coordinator, and an intercessor. Every day, campers were going all around Ndjolé to conduct Bible studies with the persons they contacted. A large distribution of nearly a thousand leaflets was made. These flyers contained lessons about the plan of redemption, the state of the dead, the Sabbath, the judgment...
Israel, one of the campers, evaluating the work done said, it was an inspiring experience; and for Ruth and Jered, they were very happy looking at the joy with which each contacted person received the biblical literature.
Among the books distributed, the missionary book of the year "Hope in times of crisis", affected strongly the population of Ndjolé.
In addition to the biblical literature, and according to the command of the Lord Jesus Christ compelling us "...to feed them yourselves" (Luke 9:13), the young people also distributed food kits to all contacted families.
At the end of this OYiM program 2021, several people were baptized and that led to the opening of the first church on Sabbath, August 28, 2021 in the city of Ndjolé.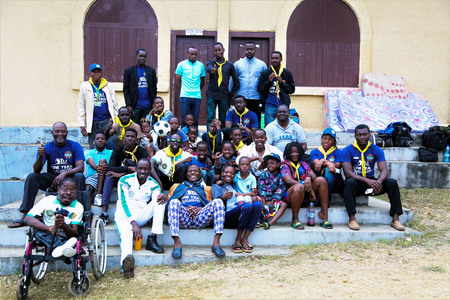 [Photo: Family picture]
Campers and organizers were greatly satisfied at the end of these two weeks of evangelism because they achieved their objective, namely the planting of a church in Ndjolé.
For Abessolo Brillant, coordinator of the Global Mission program, "the young people have accomplished the evangelical mission and today we can see the results. » Paul Auger Moungala, Executive Secretary of the Gabon Mission, found this experience very enriching because of the results obtained. So he said: "It was essential that young people participate, within the framework of the OYiM program in outreach evangelism. »
Article: Tony Ogouma
Pictures: Marc Ntoutoume