Des communicateurs formés pour faire la différence.
CAMEROUN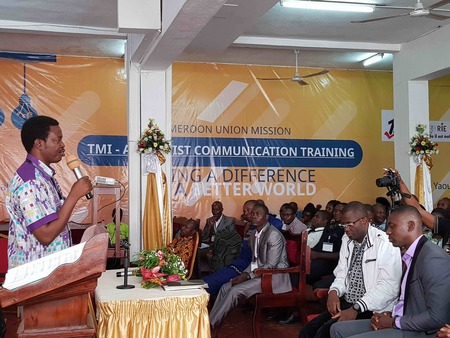 [Photo: View of the Training session]
Le programme ITM-formation à la communication adventiste s'est tenue du 09 au 15 février 2020 à Yaoundé, au siège de l'Église Adventiste au Cameroun. Elle a réuni plus de 150 communicateurs venus de tout le Cameroun.
Le thème « Faire la différence pour un monde meilleur » a été au centre de toutes les discussions. Les supports visuels de ce grand événement historique en disent long : « Quatre lampes éteintes et une qui brille parmi elles sur un fond jaune foncé. L'objectif jaillit de ce design fort à-propos. Au milieu d'un océan de contre-vérités et de fake news, le communicateur adventiste doit faire la différence », expliquera Abraham Bakari, directeur de Communication de l'Église Adventiste au Cameroun.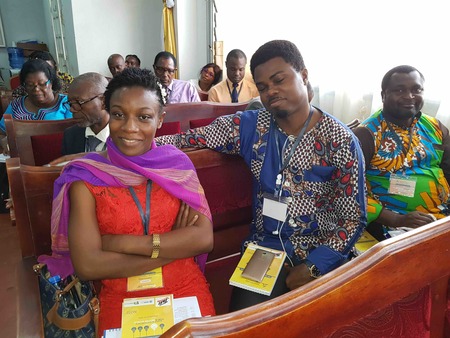 [Photo: View of participants]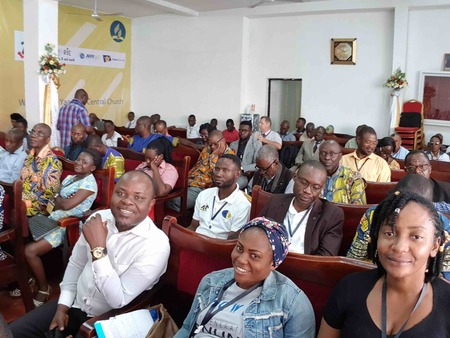 [Photo: View of participants]

Pour les différents participants, c'était l'occasion la mieux indiquée pour apprendre de nouvelles techniques qui permettent de bien utiliser les différents outils et moyens de communication modernes. Pasteur Irineo Koch, directeur de Communication de la Division de l'Afrique de l'Ouest et du Centre (DAO) et pasteur Vincent Roger Same, directeur de l'Évangélisation, École du Sabbat et des Ministères personnels à la (DAO). Ces deux responsables ont mis l'accent sur la bonne gestion et la fluidité des informations au sein de nos institutions et dans les églises locales. Ils ont aussi mis l'emphases sur la communication non verbale à travers la méthode de l'Implication Totale des Membres (ITM). Ils étaient accompagnés dans cette mission par le frère Ouattara Hyacinthe, webmaster à la DAO.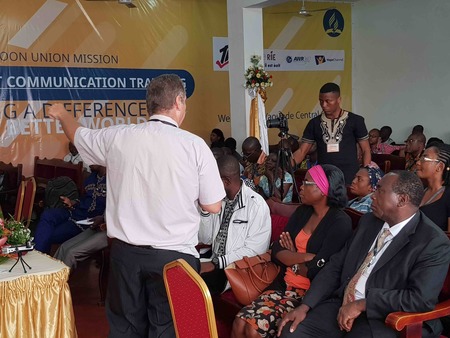 [Photo:Pastor Koch training]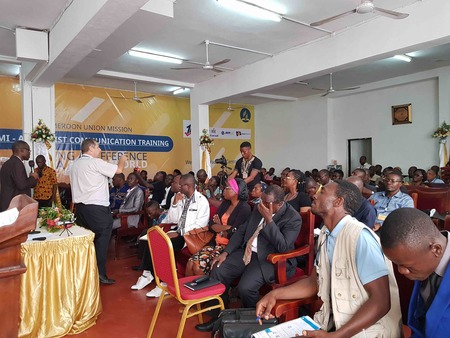 [Photo:Pastor Koch training]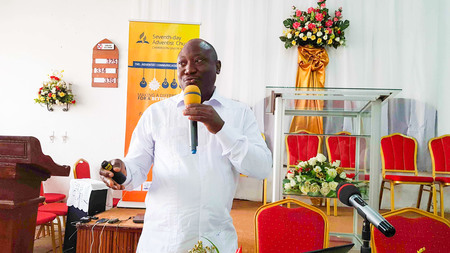 [Photo:Pastor Same  training]
Pendant une semaine, les études auréolées par des vigiles matinales et séances de prière quotidiennes, ont permis à différents facilitateurs et experts issus de l'église et hors de l'église de partager leurs savoirs sur divers thèmes. Entre autres : l'écriture presse, radio, télé, le traitement et la vérification de l'information, l'animation d'un programme, la curation d'informations, le protocole, l'évangélisation par téléphone et par les réseaux sociaux, la méthode ITM.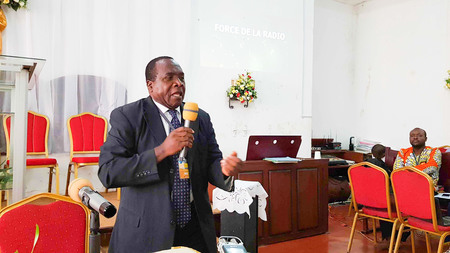 [Photo: Pastor NLO NLO special guest]
Comme invité spécial, pasteur Jean Emmanuel Nlo Nlo, ancien directeur de communication à la DAO, a présenté des capsules sur la musique, la page imprimée, la radio. D'éminents journalistes hors-échelle comme Alain Belibi, Raould Dieudonné Lebogo Ndongo, Jean Lambert Nang, Messanga Obama ont fait la joie des participants qui retournent richement édifiés.
Djimo Barbara, une participante venue de Douala témoigne : « J'assiste à une formation organisée avec professionnalisme et je vais en repartir richement bénie ». Ouattara Hyacinthe a trouvé « des participants très géniaux et d'une réceptivité exceptionnelle ».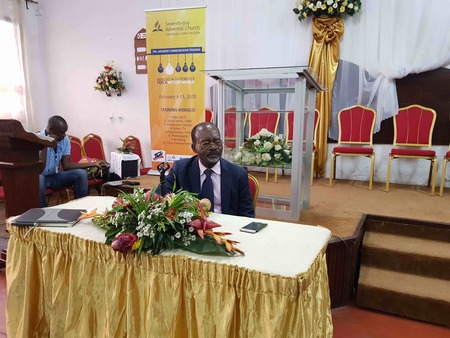 [Photo: Prof Messanga Obama]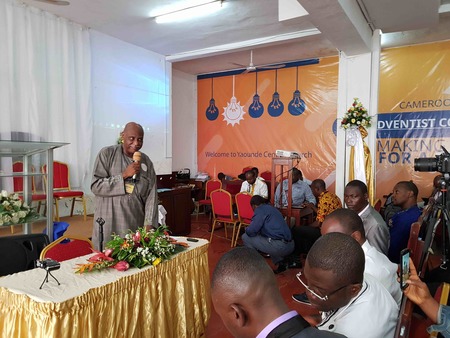 [Photo: Lebogo Ndongo facilitator]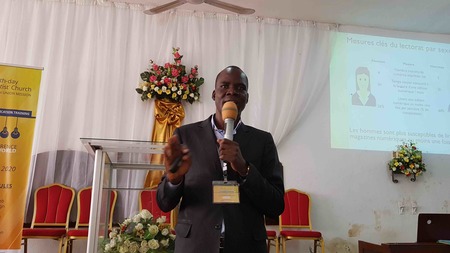 [Photo: Dr Wansouwe Wanbitching facilitator]

Entre autres ateliers organisés : l'édition d'un bulletin, le montage audio et vidéo, l'ingénierie du son, le webmastering. Ces séances pratiques ont permis à plusieurs d'enrichir leur compréhension des exposés et surtout d'acquérir de nouvelles compétences. La formation s'est achevée le samedi 15 février 2020 par un culte et la remise solennelle de cadeaux, de certificats de participation ou d'appréciation aux acteurs clés qui ont participé à cette formation.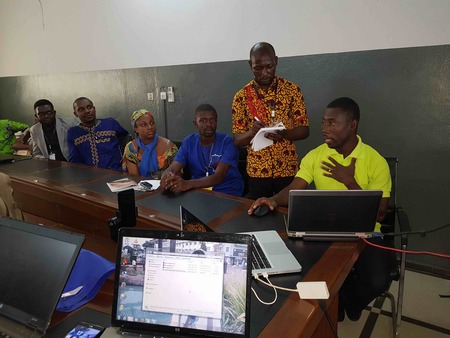 [Photo: Webmastering workshop with Ouattara]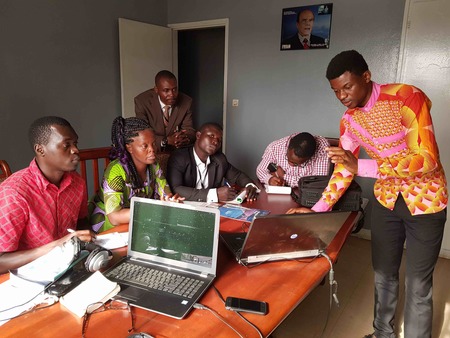 [Photo: Video editing workshop with Duclaud]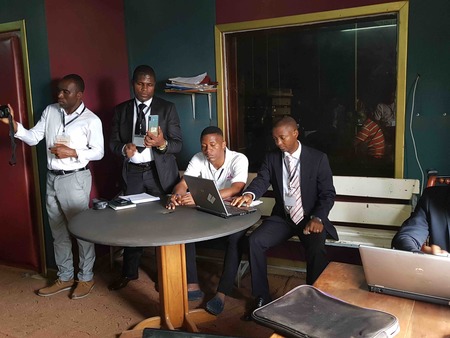 [Photo: Bulletin workshop]

Pasteur Irineo Koch a exhorté les communicateurs et les membres d'église à s'engager comme de véritables volontaires pour le service de Dieu à l'exemple de Noé. Le Pasteur Koch poursuit sa mission au Cameroun avec une campagne d'évangélisation dans la Fédération de l'Est Cameroun du 16 au 29 février 2020.