CHILDREN MINISTRIES: TRAINIG THE TRAINERS' SEMINAR, ABIDJAN - COTE D'IVOIRE 2018.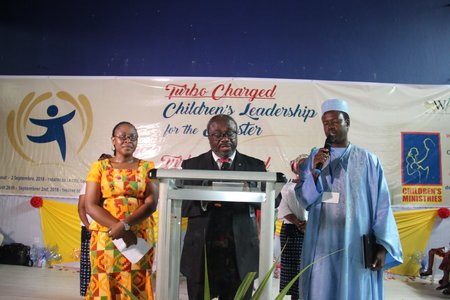 In order to be efficient and offer quality services in their work with children, all children's Ministries Directors from WAD territory gathered in Abidjan, Cocody- Cité Rouge, Côte d'Ivoire from the 26 August to the 2 September 2018.
Under the theme, "Turbo charged children's leadership for the Master", the Director of Children Ministries Department of the West-Central Africa Division, Mrs. Omobonike Sessou and all her collaborators from the various fields assembled to plan for a better future as they deal with children. This convention is one of its kind in the history of our Division and it made spiritual impact on all who came.
Days are evil and those who take care of the Children should be trained in order to train the new generations not to forget the spiritual values. When we look at our immediate environment, we see dangers and all kinds of rampant evils. Therefore, to overcome temptations our children need to be well equipped as they journeyed here on earth. Spiritual instruction should prevail other any other issue. A child without spiritual knowledge is like a car driven by a drunker on a highway. Therefore, the theme of this convention was well appreciated by all who came for the event.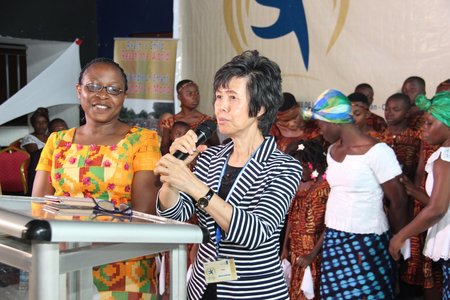 [Photo: Dr. Linda KOH, Children Ministries Director, GC ]
The special guests were Dr. Linda KOH, Children Ministries Director, GC and her Associate Dr. MFUNE, Dr. Rich Chromey, Founder and President of MANNA, Dr. Bianté FOFANA, representative of the Minister in charge of the children, Côte d'Ivoire, Mrs Kacou and many others.
In his welcoming address, Pastor Elie Weick-Dido, President of the Division congratulated all who came for this ceremony and particularly Mrs. Sessou for her vision and passion for the success of our children in a world where everything seems upside down. He then urged all to follow strictly the trainings and put them into practice when they go back to their various fields.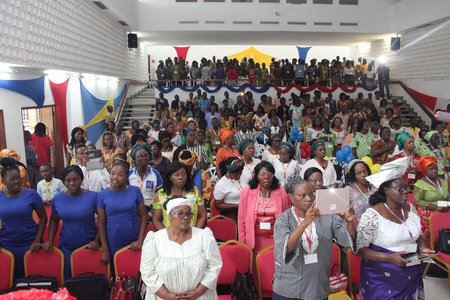 [Photo: Participants]
More than 500 delegates attended this convention and as facilitators, leaders from WAD were present. Namely, Pastor Opoku Boateng, Vice-President and Ministerial Association Secretary, Pastor Balisasa, Education Director, Pastor Sessou, Human Resources Director, Mrs. Chola from SID, Pastor Elems, Youth Ministries Director and the officials of the Côte d'Ivoire Conference.
WAD Editors