STORY health and wellness testimony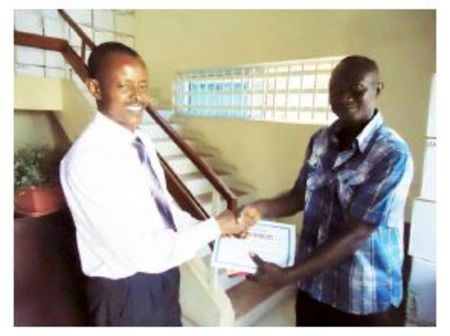 [Photo: ]

(Matt 13:8 [KJV]) But other fell into good ground, and brought forth fruit, some an hundredfold, some sixtyfold, some thirtyfold.
After reading a book that he describes as a novel, accountant assistant Milton Joseph Songu, a member of the Catholic Church and an avid reader and researcher of historical and Biblical truth became convinced that the Biblical 7th day Sabbath is the correct day to worship God.
Following reading the book about the Sabbath, Milton had a vivid dream about the stoning of Stephen in The Acts of the Apostles in the New Testament. The meaning of the dream puzzled him and he sought advice from various pastors and even spoke to his brother in the United States on the phone.
One day while visiting his neighbor David Bangura, Milton received a gift of the book Health and Wellness. Reading the book thrilled the heart of Milton; he felt he had found answers to issues that were plaguing his mind. He phoned the local number given in the book and received directions to the Adventist Book Centre at 24 Savage Street in the Brookfields' community of Freetown. He met with Rebecca Conteh, the cashier, who showed him more health and Biblical literature and invited him to visit her church in Kalaba Town which also happened to be Milton's neighborhood. The following Sabbath Milton attended Sabbath Service and participated in Sabbath School. He continued to come weekly arriving before most members and eventually he was so well prepared that Rebecca, who is the Sabbath Superintendent, invited him to lead the Sabbath School lesson Study.
Milton enrolled in the Discovery Bible Lessons and completed all 26 Lessons. Edna Thomas, the Sabbath School/PM director and Publishing Director for the Mission asked that Rebecca invite Milton Songu to come to the Headquarters to receive his Certificate, Award Bible and the Final Events DVD. The Certificate was presented by Pastor John T. Moiba, the SLM Executive Secretary.
After the presentation, Milton shared his testimony with Mrs. Thomas and Pastor Moiba. Milton received a copy of the book The Great Controversy and the tract Taking A Stand For The Ten Commandments. Milton continues to attend Kalaba Town Branch Sabbath School and rejoice in learning about God's plan for his life.