Pastor OGOUMA dedicated by the President of UMAC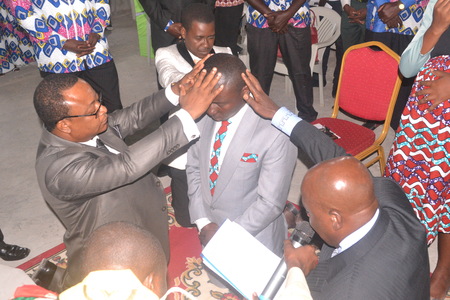 [Photo:  ]

Saturday, June 30, 2018 will forever be engraved in golden letters in the history of the Seventh-day Adventist Church of Port Gentil (Gabon). It is on that day that the local church "Philadelphia" located in the district of Ogooué-Maritime witnessed the ceremony of ordination of Pastor Tony O.
After the worship service that took place in the morning, the ordination ceremony, focal point of this Sabbath, began in an atmosphere of joy in the afternoon.
It is in a festive atmosphere that the speaker of the day, Pastor Salomon ASSIENIN GRAH, President of the Central Africa Union Mission (CAUM), amounted the stage and urged the OGOUMA family and the members who came for the occasion to walk in the footsteps of Christ, our model of wisdom.
From a text selected from Matthew 12:30, Pastor Salomon praised Pasteur OGOUMA, a humble, courageous and persevering man, who is according to him "a model for youth." He then invited his young colleague to remain honest and to "work in perfect collaboration with his spiritual fathers." The President of CAUM finally asked his audience to fervently pray for Pastor Ogouma for the prosperity of his ministry.
For the ordination ceremony itself, Pastor Ogouma and his wife, were surrounded by servants of God, including Pastor Georges Medou-Eyi, President of Gabon Mission. As a true spiritual father, he did not want to miss the occasion and according to him, that's why he made the journey to Port Gentil. The President of CAUM, Pasteur Assienin who conducted the ordination service, was accompanied by his treasurer, Elder Luc Sanda and his communication / PARL director, Elder Tita-Samba.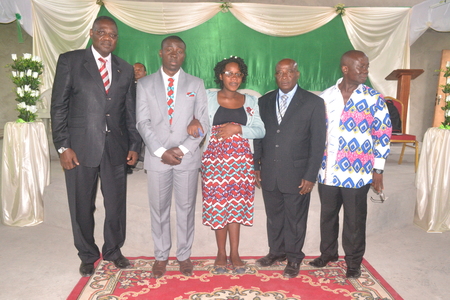 [Photo: Family picture]
This meeting ended on a note of rejoicing at Carrefour Léon M'BA where all gathered to celebrate the dedication of Pastor Tony OGOUMA.
TITA-SAMBA Solé
Director of Communication & PARL
UMAC -Bangui-