Sons and daughters of Adventist pastors gathered for the first time.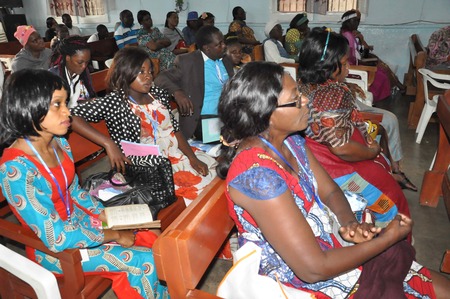 [Photo: Pastors Children Very Attentive]

It is the very first congress of pastors' children in Cameroon. They gathered in Yaounde from July 25 to 29, 2018 under the coordination of Pastor Daniel Opoku-Boateng, the West-Central Africa Division (WAD) Ministerial Association Secretary.
About 50 sons and daughters of Adventist pastors came from all over Cameroon. A new flame seems to have lit up. The pastors' children have just recovered the lost good habits. The smiles radiate the premises of the Philadelphia Church in Yaoundé, where they all gathered for the occasion.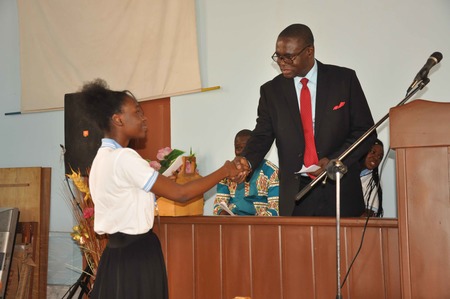 [Photo: Pastor Opoku awarding youngest PK-Daina Bone]

Pastor Opoku-Boaten, the keynote speaker, said, "The mission of this ministry is to respond to the specific needs of pastors' children by emphasizing on their Christian growth." He also mentioned that the "vision is an effective ministry for pastors' children at all levels of the Church administrative organization. "
A specially invited couple for the event came from the UK, Elder Meguille Soyam Daniel and his wife Audrey. Mr. Daniel Soyam, son of the late Pastor Soyam from the extreme North of Cameroon, urged his brothers and sisters to form a united group that stand together. His very rich and lively presentations have especially awakened the sens of a work well accomplished and love.
It is the core of a ministry that has been formed and has taken important resolutions including the appointment of the three main leaders of the association of pastors' children for each of the six fields of Cameroon. The association as such will only know its name and its strategic plan after a report of the work of a commission set up for this purpose. Another commission to appoint the national office was voted as well as the one that will be in charged to propose the statutes of this association.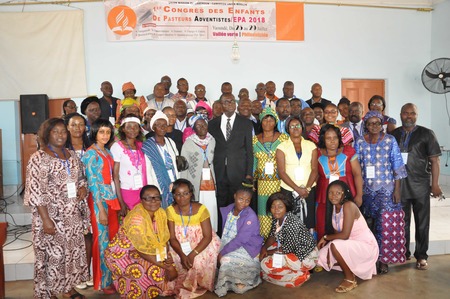 [Photo: PK family Picture]
The participants chose to organize the next congress in 2019 in the Eastern Cameroon Conference.
Abraham BAKARI