Leadership training
CAMEROUN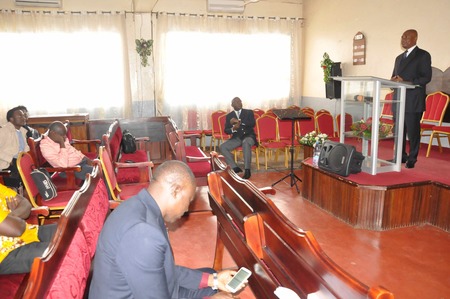 [Photo: Participants ]

Following a decision of the Cameroon Union Mission Executive Committee, all the members and permanent guests of the Union Committee and the governing bodies of institutions based in Yaounde, took part in a leadership training. For two days, from July 18-19, 2018, the Executive Secretary of the Union, pastor Yenge Yenge Yenge Isaac briefed the participants on the organization of the Church, how to plan for a good committee meeting, the importance of work regulations and the principles of transparency.
Pastor Assembe Valère, president of the Adventist Church in Cameroon, emphasized on integrity and humility in his messages of devotion. The aim was to lead the participants to understand the principles of ecclesial governance. This seminar concludes a series that began with Cameroon's mission fields. To date, no member or permanent committee member is supposed to ignore the principles.
Abraham BAKARI