ADRA is supporting the affected population of Aboisso.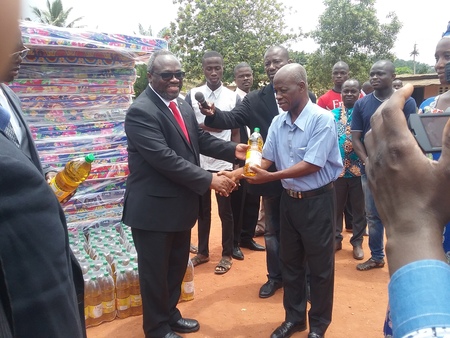 [Photo: the President of the Division, Pastor Elie Weick  and a victim]

August 17th, 2018 will forever be a day remembered by the victims of the city of Aboisso, located in the South-East of Côte d'Ivoire.
Indeed, the rains that have fallen on Ivory Coast lately have caused a lot of victims in some cities of the country. There were a lot of material and lives losses. Aboisso, city located in the south Comoé region was not spared by the phenomenon. The river Bia that crosses the city has poured the surplus of its waters on the innocent populations of this peaceful city from July 12-14, 2018.
To help these victims, ADRA West Africa proceeded on Friday, August 17, 2018, to a donation of more than 3,000,000 F CFA in the premises of the T.P. primary school. The donation was composed of 42 bags of rice of 25 kg each, 30 mattresses, 31 packets of spaghetti (40 per pack), and 216 cans. All these items were distributed to 72 beneficiaries of this locality.
Attended this ceremony, Mr. Lago Guillaume, representative of the President of the Regional Council, Mr. Attoli, representing the Regional Prefect of South Comoé, Mr. Jean-Paul Bénié representing the Deputy of Aboisso. The Commissioner of Police was represented by his deputy, Tuo Serge.
From the Church side, were present, the President of the Division, Pastor Elie Weick and his Vice-President, Pastor Opoku-Boateng and his wife, Mrs. Marie Acka, Associate Treasurer, Associate Director of ADRA, Pastor Amegnito Emmanuel and of course, Pastor Kades Tohouenou, head of the Aboisso District.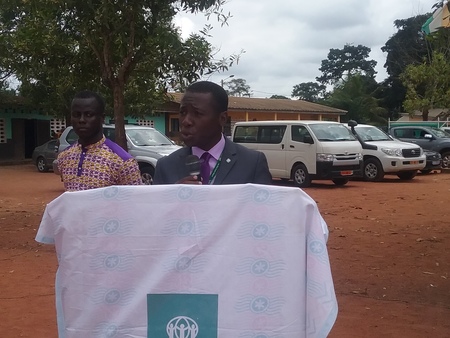 [Photo: Associate Director of ADRA, Pastor Amegnito Emmanuel]

According to Ms. Kouao Christiane, the beneficiaries' representative, "The Seventh-day Adventist Church and ADRA have just taken a very important step in the lives of the victims who were still then without help. We are blessed and we want just to say thank you for these gifts. "

WAD editors.