Personal Ministries Mid-Year Evaluation Council
Personal Ministries Mid-Year Evaluation Council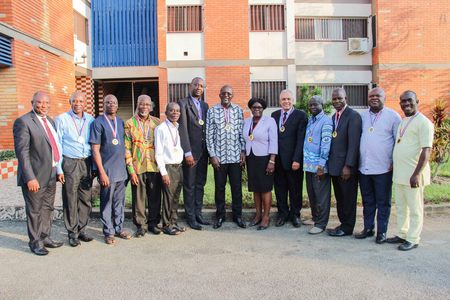 [Photo: Photo de Famille]
Pastor Vincent SAME, Director of the Personal Ministries of the West-Central Africa Division organized, from 11 to 12 June, 2018 in Abidjan, an Advisory that aimed to evaluate the activities of the department together with his colleagues from the Unions.
Were present for this gathering, all Personal Ministries directors of the 10 Unions of the Division. During the meeting, each director presented his report, which was analyzed. In the end, resolutions were made to meet our growth objectives from now until the beginning of the first quarter 2020.
We are generally satisfied because, from January 2016 to June 2018, we baptized 152986 souls including the Pentecost 2018 program, which made in the first quarter of this year 23566 souls won to Christ.
However, we still have a long way to go in reaching our goal.
We are pleading with each Church member, as part of the Total Member Involvement, to pray a lot to bring a soul to the Lord coming next year.
Thirteen delegates from the Unions took part in this Council of the personal Ministries.

                                                                                                                                              Les Editeurs de DAO.