Testimony: THE MIRACULOUS HEALING
Testimony: THE MIRACULOUS HEALING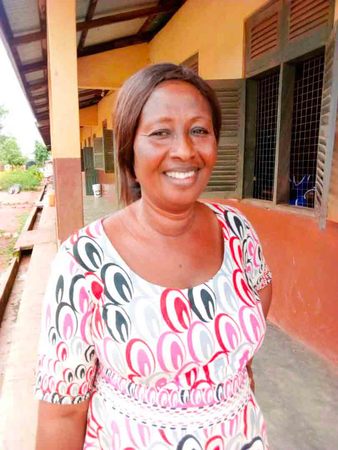 [Photo: Sister Esther, Women Ministries Director, Ashanti Central Conference]
I am giving the testimony of sister Esther, the Wo­men Ministries Director of the Ashanti Central Conference with whom I worked during the Pen­tecost 2018. The Ashanti Central conference is in the Northern Ghana Union Mission. We went in a place called Esumeja for two weeks evangelism, sister Esther, the Union Women Ministries Director and myself the Women Ministries Director of the West-Central Africa Division (WAD).
We started a program and by the grace of God, things were moving well and we were all happy. The first week went well, yet the location where we were preaching was a very hard place. People believe in their traditional religion and many of them are from other Christian denominations. But by the grace of God, through prayers the Word of God was penetrating.
By Tuesday the following week, sister Esther woke up with a sharp pain by her side below her tummy. Having prayed with her, we decided to massage her and we hoped that things would get better. But throughout the day she was not feeling comfortable at all. Because of that we had to ask her to go to the hospital. So she went and a scan was conducted on her and she was told that she has something in her womb and that she had to be operated immediately. That was already on Wednesday and we were to end the evangelism on Saturday with baptism. We were so much worried when we looked at the whole issue. She has already gone to 2 hospitals. And finally, it was in the last one she was told that she had to be operated.
Together with some pastors, we decided to seek the face of God. So we asked the Doctor to hold on and give us 24 hours and after that a decision will be taken. Eventually the Doctor accepted and we decided to fast and pray. We did not want her to go through that surgery. And what worsened the situation was that a family member of the Union Women Ministries Director also had a problem the past week. She went for operation. They taught it was something so easy but she died through it. This complicated the whole issue and it made everybody to be afraid. Why surgery again?
On Thursday, she was referred to a bigger hospital where the operation would be conducted. When she got there and gave all the reports of the other hospitals to the gynecologist he said, they have to prepare her for operation. But our sister noticed the pain was no longer there as she was having it previously. The Doctor ordered another scan.
They went for the scan. The Doctor checked the scan and said, "oh, there is nothing in her womb". She looked at the first scanner and to the second and said: What is this? This has to be confirmed again. They did another scan and nothing was in her womb. So the Doctor said, there is nothing for them to operate her upon. She will just have to go home and then they pres­cribed some antibiotics and some other drugs for her to take.
It was like a dream. For us we knew that our God has done a miracle. Sister Esther went home; she was not even admitted in the hos­pital. She went back home on that Thursday evening, stayed at home on Friday. By the grace of God she was in church on the Sab­bath to give her testimony.
I just called her recently and she told me: I have not seen that kind of God who answers prayers by fire. Today, sister Esther is bouncing in good health, sharing her testimony. In fact, her testimony made people to get baptized on Sabbath because the God of the Seventh-day Adventists is a God who performs miracles. She said that I should share her testimony, and this is it!
                                                                                                                                        Mrs Omobonike Sessou
                                                                                                                             WAD Women Ministries Director