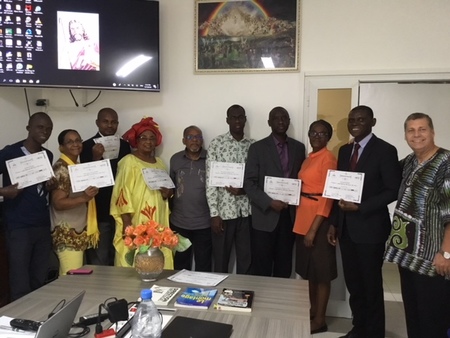 [Photo: Family Photo.]
From the 14-15 May, 2018 in Dakar, at the headquarters of the Western Sahel Union Mission, was held the Communications Council.
The leaders of the Fields of the Union met in Dakar to to evaluate the work done during the first semester of the year. This meeting enabled them to set up a development strategy for now till 2020.
The Director of Communications of the Division, Pastor Irineo KOCH, has made every effort to achieve the objectives. He led out training in workshop that will allow the communications directors from the verious filelds to be more effective.
Several topics were discussed during this meeting. Here are a few.
1) The art of communicating
2) How to write news
3) How to overcome fear?
At the end of the training, all who participated actively were avaluated.
The Directors of Communications of the Division and  the Western Sahel Union, Pastor Koch and Pastor Guy Roger, presented Certificates to the participants at the end of the program.
We believed that this advisory will bear the expected fruits in the fields of the Union.