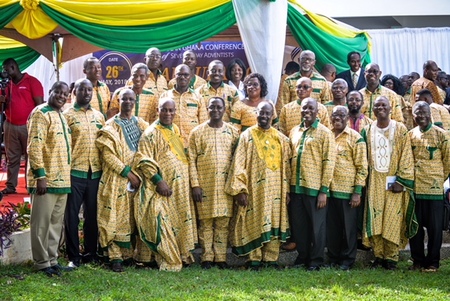 [Photo: Family Photo.]
"Go ye therefore, and teach all nations, baptizing them in the name of the Father, and of the Son, and of the Holy Ghost: Teaching them to observe all things whatsoever I have commanded you: and, lo, I am with you always, even unto the end of the world". Matthew 28:19-20
In response to the great commission, the Southern Ghana Union Conference of the Seventh-day Adventist Church in Ghana inaugurated yet another of its twelve conferences, Meridian Ghana Conference (MGC) on May 26, 2018 at the Ceremonial Ground of Valley View University, Oyibi. 
In a brief remark, the special guest for the event, Elder Emmanuel Kwasi Anyimadu, clerk of Ghana's Parliament, expressed his heartfelt delight for being part of the celebration.
Elder Emmanuel Kwasi Anyimadu admonished the leadership of the Church to live up to the statutes of the Great Commission and not for self-gratification. He also used the opportunity to remind the Church of its unique role as social agents and ambassadors for change to fight social cankers like misuse of natural resources and homosexuality. 
 Elder Anyimadu lamented that it is sad that homosexuality is becoming a widespread menace in our society and there seem to be some pressure on African Governments to legalize the practice. He however mentioned that Ghanaian cultural values do not accept the phenomenon and therefore considers such acts as unthinkable. The practice is also viewed as distasteful and abominable in the sight of God, he added. He called on Christians, particularly Adventists, to raise a strong voice against these abominable sexual behavious that have the capacity to threaten the very existence of humanity.