An Adventist Pastor Was Decorated Knight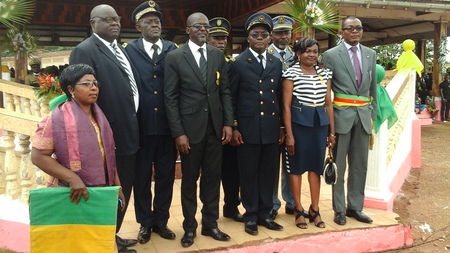 [Photo: Photo avec les autorités après la decoration]
Jean Pourrat Meting received his award in the National Order of Merit on May 20, 2018 in Ayos, a city located about 140 km from the capital Yaounde.
The Sub-divisional Officer of Ayos, Mr Banga Richard was in charge of awarding the decoration at the city's grand place of celebration.  A huge crowd occupied the venue in the occasion of the national day of unity. The defense and security forces sound the fanfare.
The atmosphere is imbued with great solemnity. The recipient, with a serious air, takes part in the ceremonial dressed in his dark suit. The Sub-divisional Officer came forward and uttered the consecrated formula: "Mister Jean Pourrat Meting, on behalf of the President of the Republic and by virtue of the powers conferred upon us, we make you Knight in the Order of Merit of Cameroon". Then the honors were given. A jubilation seized the great crowd that came to celebrate the national unity. A great ovation followed when the pastor's wife came to congratulate her husband.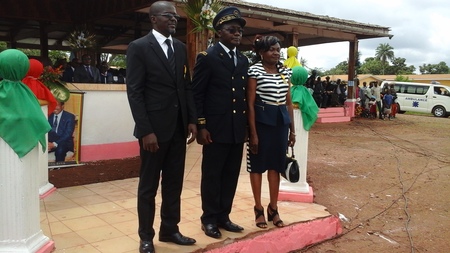 [Photo: Pasteur Meting a gauche et le sous prefet au milieu-place des fêtes]
According to the 1972 Order reorganizing the National Orders and the Grand Chancery of the Republic of Cameroon, the appointment in the National Order of Merit can come only after a minimum of 12 years of outstanding service. In the case of Pastor Meting, he himself said that the reasons relate to his sermons themes. "They focus on the social peace, the fight against corruption, the promotion of self-centered and decentralized development and brotherly love". The State is sensitive to all these in the fragile situation of crises in four of the ten regions.


[Photo: Pasteur Meting et son épouse Alliance apres decoration]
The President of the Republic has just rewarded a preacher of the Gospel. This laurel is added to the title of PhD of Theology that the recipient got on May 11, 2018 at the Protestant University of Central Africa in Yaounde. Dr. Jean Pourrat Meting is currently serving as the Director of Sabbath School and Personal Ministries Departments at the Cameroon Union Mission.
Abraham BAKARI
 Communication - UMCA