[Photo: Le pasteur Elie Weick visitant la station de radio; nous sommes ici dans la salle de redaction.]
It was on the occasion of the rescheduled special celebration of Labor Day on Sunday, May 13, 2018, in the premises of the radio station in Yaoundé.
On Sunday May 13, 2018, in the afternoon, the staff of the radio station "lt is written" of Yaoundé in Cameroon (92.4 FM) enjoyed great time celebrating brotherhood and labor. The thirty volunteers present were moved by the presence of both the West-Central Africa Division President, Pastor Elie Weick and the Adventist Church administrators in Cameroon. 
After tracing the history of the radio station and its development since 1963, some conversion and impact testimonies of the radio program ministry followed. Among the testimonies, there was the one of Adama Dolo, a Muslim lady from Mali who got baptized after the campaign "Horizons d'Espérance 2017" held by Pastor Elie Weick at Djoungolo 2 in Yaounde. She is part of the team and got married to a radio volunteer. God keeps on protecting her and performs miracles every day.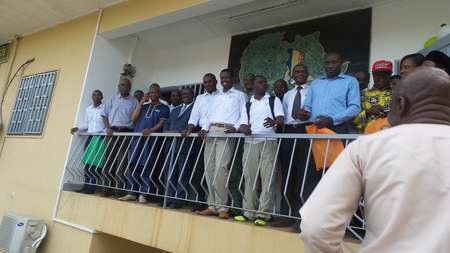 [Photo: Photo de famille avec le personnel de la radio.]
Furthermore, in order to encourage the volunteers and employees of that radio station, the first of its kind in the Division, authorized on November 24, 2003 and officially inaugurated on December 9, 2005, Pastor Elie Weick took the floor. He expressed his amazement regarding the sense of sacrifice and involvement in the fulfilment of the mission. He congratulated and encouraged all of them. Everyone received a sign of gratitude: a beautiful shirt stamped with the logo of the radio station. Then, a dedicating prayer was offered for all the staff.