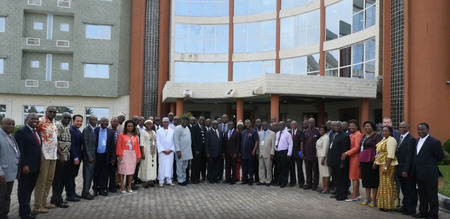 [Photo: Family photo]
The Mid-Year Meeting of the West-Central Africa Division took place in Monrovia, the capital city of Liberia from 1-3 May 2018. About fifty-five delegates representing the Division and the GC attended this Council. The theme of this gathering was "Faithfulness to His Word".
The strategically chosen location was the Millennium Hotel, owned by WAD, which was recently opened and now used for this important spiritual gathering. Located, on the capital's main avenue, with fifty rooms (Ten Suites and Forty Rooms), the Millennium Hotel is considered as one of the best hotels in Monrovia. 
During the event, reports were presented and appreciated. The focus of the mission "Reach the world" was well highlighted with the evangelistic campaign "Pentecost 2018". Leaders' involvement was remarkable. Pastors, volunteers of various ages and backgrounds, and many Church members led out in this exercise, which resulted in many blessings from God.
[Photo: Special prayer for God to bless Pr Moonroven who was an Associate Secretary but now is the Under Secretary of the GC.]
The points to deal with on the agenda during the meeting were all fulfilled and voted by the participants in a peaceful environment with opportunities to express themselves. Opportunities were given to all to ask questions and evaluate issues dealt with. All the meetings ended shortly ahead of schedule. 
According to the evaluation of some veteran participants, it was one of the most peaceful meetings of WAD.
Through prayers, good results were obtained; issues were also well discussed in small groups before getting to the lager committee.  The search for the constant presence of God in the event, with inspirational devotions and many prayers led everything to a success.
The President of WAD, Pr. Elie Weick thus evaluated the meeting: "The Church belongs to the Lord. If the Church belongs to the Lord, anything that we do, we should call upon the Lord. That is what we did. I am not surprised because God has just been faithful."