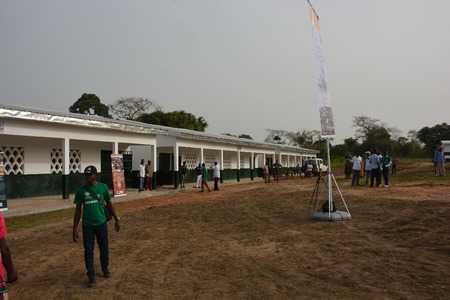 [Photo: A wide view of the newly built classrooms]
The local community receives classrooms, a residence for the school principal and many other buildings on April 5th 2018.
Bilomo is a city located in the Department of Mbam and Kim, in the center of Cameroon. As a result of the partnership between ADRA-Cameroon (Adventist Relief and Development Agency) and Tzuxing Foundation, a Taiwan Non-Governmental organization, that city has a school now. 
The ceremony to hand over the new buildings of the Adventist school took place on Friday, April 5th 2018 in the presence of administrative and political authorities, traditional leaders, and of the ministers of Cults.
[Photo: TX Foundation leader handed the certificate of donation to ADRA Cameroon Director]
In a whole 6 classrooms, 4 latrines, a residence for the school principal, a staff room and the renovation of the elementary school (built in 1953), and many equipment materials. The project had been supported by the Tzuxing Foundation from Taïwan in conjunction with ADRA International and ADRA Cameroon with the amount of 72,000,000 CFA, i.e 133,900 US dollars. 
In his address, Sr. Bernard MBOEME, the mayor of Mbangassina, declared that: "The contribution of Seventh-day Adventists here at Mbangassina is undeniable. As evidence, they have given the education community brand new school buildings." He also confessed that he is counting on ADRA in the struggle against illetracy.
Sir Pierre Celestin MUTARAMBIRWA, Cameroon ADRA Director stated that " ADRA will keep on with their humanitarian and development activities putting priority one quality education among Cameroonian communities and people with special needs, for example, refugees, orphans and the handicapped by the renovation of classrooms." The district education inspector, Sir Clement Agandi, admits that the buildings will increase access to schools. Sir Tcheng Ta Hsien, founder of Tx-Foundation, and the Honorable Secretary HAN JUNG LI said nothing except thanking the Seventh-day Adventist Church and the Government of Cameroon.
Tzuxing Foundation is going to support many other projects apart of this one considered  as a test in Cameroon. We remember that the groundbreaking ceremony was held on July 25th 2017. In less than one year, a village has been transformed. In Africa, 76 projects were funded in one year. Joyful days are to come.