[Photo:NCNC President, Pastor Micah Nasamu conducting baptism ]
Pentecost 2018 evangelism is a global evangelistic strategy adopted by the Seventh Day Adventist Church Worldwide to reach the unreached with the good news of the second coming of our Lord Jesus Christ.
This program started in January with 10 days of prayer in all the churches, companies and branches across the 16 Districts of the North Central Nigeria Conference with headquarters in Karu, Nasarawa State, near Abuja. It is important to note that the programs were conducted through the combined efforts of Pastors and laymen. 
The ten days prayer were later followed by various activities such as community services before the two weeks public evangelism. A total of 37 souls were baptized at the end of the 10 days of prayer while 135 souls were baptized at the end of the open air evangelism.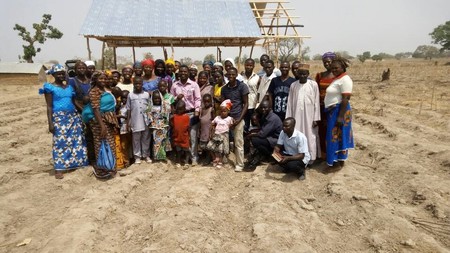 [Photo: Church Members At Their Temporary Church in Madagwa Watta Community Of Lafia District ]
The collaboration between the director of evangelism, personal ministry leaders and the director of communication helped to gather information that were disseminated via the social media as well as the traditional media. 
In Lafia District, Pentecost 2018 open air evangelism started on the 3rd and ended on the 17th of February, 2018 at Madagwa Watta, a rural community near Agyaragu, one of the local churches under Lafia District of Nasarawa State.
At the end of the program, two souls were baptized while one was accepted into the fellowship through profession of faith. A family willingly also donated a piece of land for the church building. Already, a temporary structure has been constructed and church worship has begun in that community.
In Makurdi District of SDA Church, Pentecost 2018 commenced behind scheduled as a result of security challenge in parts of Benue State where our church is located. To God be the glory because Pastor Ephraim Haruna finally launched the public evangelism at Igbor where a new Sabbath school branch has been opened. 
An internally displaced person from Nasarawa state who was taking refuge in the community, got baptized during the evangelism program. This newly baptized member also requested that the gospel be taken to his home town in Nasarawa state. 
In all a total of twelve souls were baptized in Makurdi District comprising 9 from Makurdi church while 3 from Gboko church.