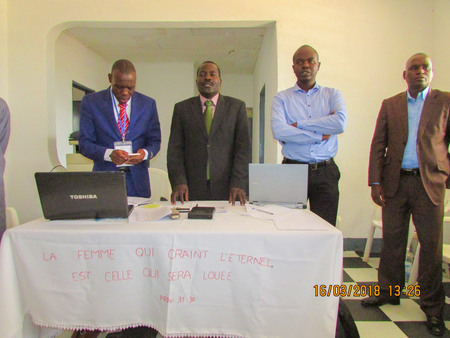 [Photo: The three newly elected Administrators: From left to right, Pasteur Espoir Pergamine (Secretary), Pastor Madi Yaya (President), Elder Slanoua Mamts (Treasurer)]
It was during the very first general assembly held from March 11 to 17, 2018 in Ngaoundéré, headquarters of the new Conference.
Pastor Madi Yaya is the newly elected president and will work with Pastor Espoir Pergamine as executive secretary and Elder James Slanoua Mamtsi as treasurer. Departmental directors were also appointed as well as members of the executive committee.
The session brought together 42 regular delegates, 27 general delegates and about 30 guests from all over the Adamaoua region and the Touboro sub-division. Under the watch of Pastor Same Roger Vincent, representing the West-Central Africa Division (WAD) and the coordination of the Cameroon Adventist Church leaders, the items on the agenda have been thoroughly examined. Among other points, the delegates scrutinized the evangelism, the strategic plan and the budget.
Pastor Assembe Valère, president of the Cameroon Union Mission testified that "the session was a success to the glory of God. The mobilization was great and every day the room was full". Satisfaction was also visible throughout the large Adventist community of Ngaoundere who attended this great celebration.
The Adamaoua-Mayo Rey Conference was established with three other administrative entities in Cameroon: the Benoue-Faro Mission whose general assembly took place from March 4 to 10, 2018 in Garoua, headquarters of this new Mission; the East Cameroon Conference and the West Cameroon Conference whose general assemblies are scheduled for the end of March and the beginning of April 2018.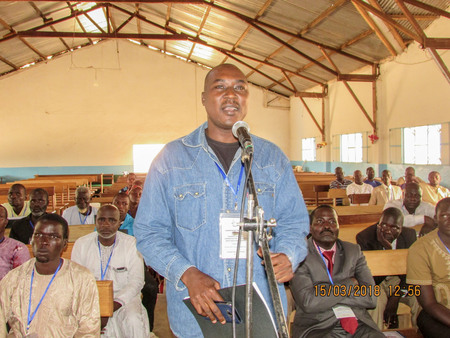 [Photo: Contribution of delegate Peter Gaimatakone during the works.]
The Adamaoua Conference, created by a vote of the WAD in October 2017, counts nearly ten pastors and evangelists ministering unto 5,811 members in 69 churches and groups. Since 2015, a new secondary school opened in Ngaoundere: the Ted Wilson Adventist College. Despite a high Muslim density, frequent kidnappings and security concerns, this missionary field is taking its first steps with confidence.