[Photo: Child dedication]
A local congregation in the East Ghana Conference of the Southern Union is piloting innovative ways of sharing the Adventist message with its Ministries to non-Adventist spouses and heads of the Civil/Public Service in Koforidua.
True Vine Adventist Church, an English language congregation, in January hosted 25 visitors made up of non-Adventist spouses and their friends who had been specially invited to celebrate the Sabbath.
"This is was our approach to Pentecost 2018 to organize special evangelistic initiatives to prepare and nurture people and lead them to a decision in a rather unconventional way," said the Executive Secretary of the Conference who doubles as the Church Pastor, Pastor Kwaku Okyere Baffour.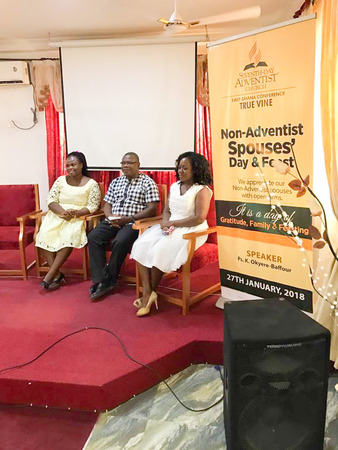 The non-Adventist spouses were included in the service and played various roles during the service. A baby dedication was also planned that day and saw a member inviting his charismatic wife and family to witness how Adventist dedicate babies.
"I love the warmth and the nice way the church related to me today, I will come again and come indeed to stay," said Akua Saforo whose husband is an Adventist.
A lecturer in one of the Technical Universities, whose wife is an Adventist also took a stand to start Bible studies. Three non-Adventist spouses are currently being prepared for baptism as a result.
In another development, on March 10, 2018 another programme was organized for the heads of public and civil services in the region. 104 non-Adventists from the middle and working class in the Eastern region were in attendance.
"Here again the strategy was simple. Invite, strike acquaintance, secure their contacts, erase negative perceptions about Adventists and then follow-up with Bible studies," said Pastor Okyere-Baffour.
[Photo: Dr. R. AKUAMOAH]
This group was invited to a Sabbath afternoon lecture at one of the plush hotels in town on how to plan their retirement led by an Adventist Psychology lecturer with the University of Ghana, Prof. Akuamoah Boateng.
"It was a very good and educative programme, even though it was a church programme, I think it is another way of getting people to know about the word of God and also about issues that affect their lives here. It was very timely and a wakeup call for me. I have learnt that I must start investing for my old age now. I recommend more of this," a participant said.
200 pieces of Adventist literature was distributed including "Story of Hope", "Steps to Christ" and the "National Sunday Law." All returned their information cards and some have requested for Bible studies.
"We will keep the friendships and strategically follow-up on them, as this is one way of getting the middle class of our society who will otherwise not attend our outdoor campaigns to get to know us and to take a stand for Jesus. We need your prayers," said an excited Pastor.