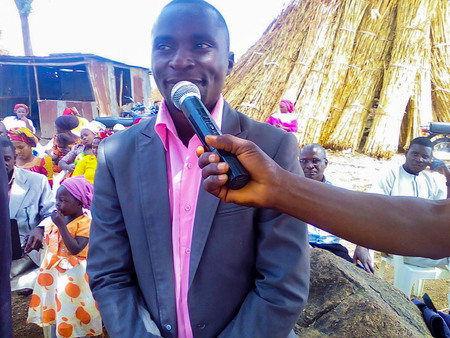 [Photo : Brother Panmu Auta witnessing]
God began to open my eyes when I first heard of Adventist Church through Adventist World Radio, two years ago. Before then, I was the leader of the Church of Christ in Nations (COCIN) Men fellowship. Unaware that it will soon change that unusual evening, I picked up my radio, turned it on and listened to a pastor preaching from Exodus 20:8. The message was not the normal messages I am used to from our Revered Ministers.
For the first time I heard that, the Sabbath day is a day we are to remember and keep it holy, not Sunday but Saturday. Being arrested with this new truth, I made up my mine to make all equerries from my spiritual leaders, but whenever I ask any question regarding the Sabbath, they will not give me answers from the Bible, so I decided to search for all I could about the Sabbath myself.
When some of my friends and former church members see that I was leaving my former church (COCIN) for another Church not even on Sunday, but Saturday, they were very apprehensive, confrontational and even physical attack. They told my wife that I am about to join a deadly blood sucking group, that unless something urgent is done to arrest me the entire family is doomed.
As I persisted with my new found faith despite stiff resistance from my wife and other family members God did something. August 2017 will remain with me till the end, as it was that month and year, after two years of unceasing searched, I discovered an Adventist Church congregation  worshiping right in  my native town of Mangu LGC Plateau State Nigeria a very short distance from my house.

Within a short time, I contacted the pastor of the local church  he and his wife came visiting, and they both are very helpful in answering all the questions I and my wife had. After going through every book we could get our hands on, studying the bible with pastor and hearing many great sermons it seems I am already in Heaven.

I am happy to announce to you that, Feb. 24, 2018 I became a member of this great Adventist congregation through profession of faith. My wife is ready to join also.