[Photo : Family photo of newly baptized members]
It was a memorable re-enactment of the Pentecost experience as Pastors across the North East Nigeria Conference of Seventh Day Adventist Church preached the gospel of our Lord Jesus Christ and the end time message across the length and breadth of the seven states that constitute the Conference. 
Pentecost 2018 is a General Conference Global Evangelism programme, in conjunction with WAD, NNUC and NENC of the Seventh Day Adventist Church aimed at preaching the advent message and making disciples of the whole World, in line with the Pentecost account recorded in the Bible book of Acts: 2:1-4.
In keeping with the apostolic injunction of "starting from Jerusalem," The North East Nigeria Conference carried out the first phase of Pentecost 2018 through posting of thirty two pastors for the Evangelism programme which ran between February 4, and February 24, 2018.
President North East Nigeria Conference, Pastor Emmanuel Gbazi Jugbo while welcoming Pastors back from their various centres, appreciated God for the bountiful harvest of more than two hundred souls who joined the Church through baptism and profession of faith, within the period of three weeks
Addressing Pastors as he spoke from the podium of the Conference room of NENC, Jugbo reminded them that "No one has the power, charisma or wisdom to convert a single soul for Christ's Kingdom, as he said, that is the work of the Holy Spirit." He continued, "let us do our own part which is to call, warn and inform them of the impending danger that is about to befall this sinful world."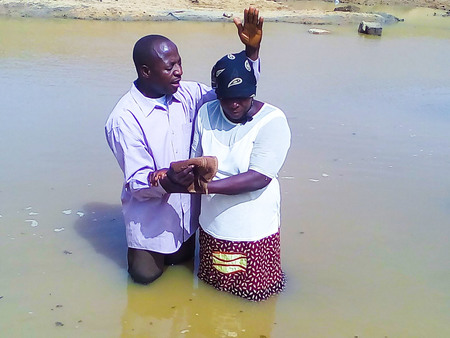 [Photo: Pastor baptizing]