[Photo Credit: SGUC Youth Ministries/ People waiting in line for their food]
Over 50,000 poor and needy persons benefited from various charity acts on Global Youth day held on March 17, 2018. Many of these were feted, watered, sung to and given free medical services and clothes within the Southern Ghana Union Conference.
A beneficiary who was almost in tears said, "God knows I had no idea where to get a meal today, and see He provided food through you people, thank you."
The West-Central Africa Director for Youth Ministries, Pastor Elems Oguchukwu, who hosted the event live from Accra was beside himself with admiration and praise for the young people.
"It was a great privilege to be part of the GYD 2018 celebration in Accra, Ghana.  The exuberant, zeal and joy of mission exhibited by the children, young and old was second to none.  We marched the streets of Accra with meals and water on wheels and visited with and fed teenagers in foster homes. I was also delighted by the level of support and participation of the officers of Southern Ghana Union Conference," Pastor Elems said.
According to the Youth Director for the Southern Ghana Union Conference, all young people and children were out of church on global youth day impacting their communities. There were a total of 100 impact centers, 28 of which were in the city of Accra alone.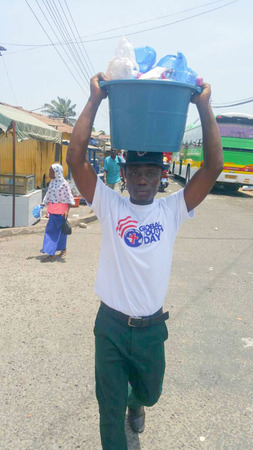 "The youth mapped out the territory into 100 groups and each of these groups walked their communities to share food, water, medical supplies and toiletries to the poor and aged.  A local congregation' Prince Emmanuel Adventist church hosted thousands of needy people providing them with food, water, and free medical services which included free registration for medical insurance. Another youth musical group, The Manifest also provided music and feted over 2000 people in the Madina community of Accra.
An interesting feature for GYD 2018, was the sponsorship received from Adventist businesses and corporate bodies. A thankful youth leader, Nii Ayitey Hammond in a Facebook post said "You have no idea how much your help means to us and those who benefited from your support. For every support both big and small, the PESDAC YOUTH say a big thank you and may the Lord richly bless you all."