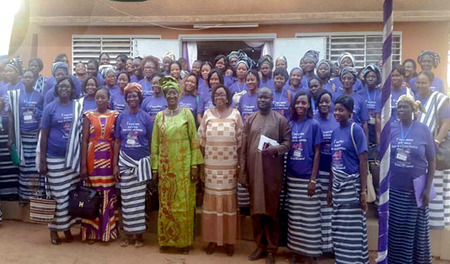 Adventist women in Burkina Faso organized their first National Congress in Ouagadougou, capital city of Burkina Faso from 18th to 24th, December 2017. This Congress was chaired by the Minister of Women Affairs, National Solidarity and the Family. A parade ended the congress on Sabbath afternoon. 
The Adventist women in Burkina Faso had a parade on Sabbath 24th in the streets of Pissy, a popular area of Ouagadougou for the ending of their congress. This is for the first time a women gathering like this is taking place in Burkina Faso. "We had retreats, rallies, but time has really come for us as Adventist women to have our congress", said Mrs. Abiba Thiombiano, Women Ministries Director, Burkina Faso Mission. The theme of this meeting was, "Woman, be involved and witness for Christ". According to Abiba Thiombiano, this theme goes in line with the actual context, which is dominated by the preparation of the soon coming evangelistic series "Pentecost 2018", coming February 2018. Mrs. Tabita Kra, Director of Women Ministries of the Eastern Sahel Union Mission and the administrators of the Burkina Mission instructed all the 57 participants on relevant issues related to the theme of the Congress. These women came from all over the districts of the Burkina Faso Mission.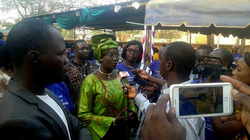 In her address during the opening ceremony, the Minister of Women Affairs, National Solidarity and the Family, Mrs. Laure ZONGO, chairperson of the Congress, expressed her admiration for Adventist women because of their sober and caring conduct in the community.  
The Adventist women in many occasions have visited social centers where rejected women suspected of witchcraft lived, excluded from their homes. Laure ZONGO also called on the Adventist women to pray for peace and security in the country because Burkina Faso is one of the Sahel countries where terrorism has increased in these last years.  
Before the closing of the Congress, Tabita Kra encouraged the women to register massively for the soon coming ESUM women's event in August 2018 in Ouagadougou, Burkina Faso. "During this congress, Directors of the General Conference and the Division will be present", she announced.
Assane KABORE
Burkina Faso
ESUM.