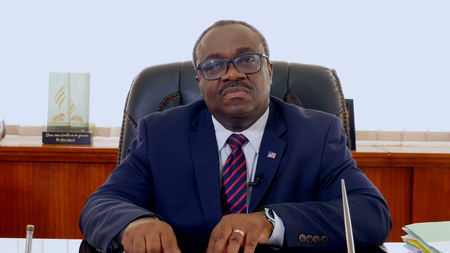 Dears Leaders of the SDA Church in WAD,
Dear Brothers and Sisters.  
Here is a New Year that God has given us by his grace to co-operate with Him and finish the work so that we can go home. 
As administration of the West-central Africa Division of Seventh-day Adventists, we invite you to what we have called "Pentecost 2018", where every leader and every member is to take God seriously to respond to His call in evangelizing so that the message of salvation can be spread everywhere. It is not a problem for the Lord to do the work by Himself; But He wants everyone to be blessed. It is a transforming experience in which all of us are invited. 
This year, everyone should plan, pray and be involved in souls winning. We will then see heaven fully open from where we shall receive the blessings of the Lord upon His Church. We will experience miracles, revival and reformation among us. 
Angels are waiting for our co-operation. If we give ourselves to Christ, in a whole-hearted devotion, angels will rejoice and may even speak through our voices to reveal God's love.
As you know, every true disciple is born into the kingdom of God as a missionary. Let us unite our efforts as God's people for these last days to accomplish our Mission.  
The success of this tremendous operation will not be the result a chance or accident or even destiny, but rather, the outworking of God's providences, the reward of faith and discretion, of virtue and perseverance. 
The world will not be the same anymore; things are not going to improve. Around us, people are dying every single day without Christ. There will never be peace anywhere. There is no security anywhere; the political leaders of the world do not even know what to do. 
We need to introduce Jesus Christ to this dying world and allow men and women to make the appropriate choice. This work of God is to be carried on to completion by the co-operation of divine and human agencies. What a privilege it will be for the Lord to see you on the line of His people working faithfully with angels to finish this wonderful work! The Lord is about to appear in the clouds of heaven with the reward. 
Let's us come together, and may "Pentecost 2018" be an experience that you don't miss out. Let us join in unity for the Lord, let us get involved, let us finish the work and let us get ready to go home. 
"Pentecost 2018" is a Total Member Involvement. Get therefore involved. 


Ps. Elie Weick-Dido
WAD President