ADRA CAMEROON
A Taiwanese foundation finances the renovation of an Adventist school in Bilomo.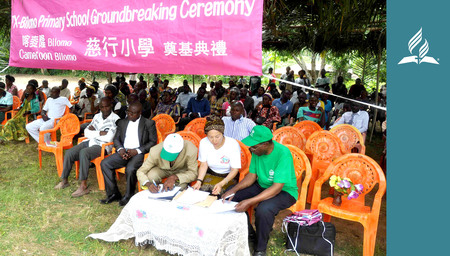 ADRA Cameroon and the representatives of TX Foundation arrived in Bilomo, a village located at 150 kilometers from Yaounde on July 25, 2017 for a special ceremony. The populations of this locality could not hold it but expressed their happiness using their traditional instruments to welcome their special guests.
After all the speeches, the partners to this renovation project went to visit the old site then the new one to proceed to the laying of the first stone. This project is a project of more than 40 millions CFA ($ 80,000.00) US financed by the TX Foundation. The International Direcor and the Secretary who came from Taiwan and their collaborators from Australia and Nigeria were able to learn about the realities on the ground. The Adventist School in Bilomo was the flaship school in the 1950s and trained thousands of Cameroonians.
Unfortunately, over time, this institution has experienced an unprecedented state of disrepair. This project is in the process of reconstructing not only the classrooms, but also the accommodation of the Directorh and publics toilets within five months.
The dynimic team has promised to return for the inauguration of the buildings. According to the regional representative in Nigeria, the TX Foundation, in just 12 months has funded 76 differents projects across Africa. « Where the President passes, miracles follow », she said.
Abraham BAKARI
Communication Director, CMUM