Grounbreaking of a New Building.
ADVENTIST SECONDARY SCHOOL OF YAOUNDE.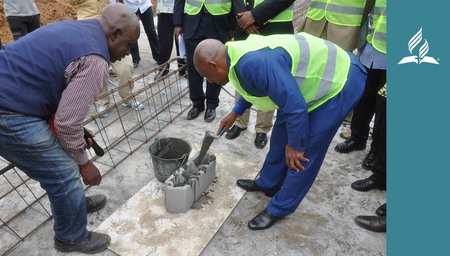 A delegation comprising the administrators of the Cameroon Union Mission, the Central South Cameroon Conference, the Adventist School in Yaounde, and the Consultative Forum of the Parents and the School's Sataff met in the premises of the School for a special event. The purpose of this meeting was, of course, the laying of the first stone of a new building. The ceremony was performed by Pastor Valère, President of the Seventh-day Adventist Church in Cameroon, assisted by Pastor Yenge Yenge Yenge Isaac, the Executive Secretary of the Union on July 24, 2017.
« We are very happy today because we are concluding an idea conceived from several observations. This two-story building in our school will provide us with 12 new classrooms, 8 offices, 3 compatiments of toilets, one multipurpose room with videos and 3 specialized rooms. We had to solve the problem of specialized classrooms as well as overcrowding students », said the Principal of the school who was expressed his joy.
Engeneer Edouard Jean Chrysostome, the building's supervisor observed that the most difficult part of the work was how to set up the foundation because the building is on an unstable ground. The General Manager of METALEX, Mr. Andzongo André, contronted with the concerns expressed by the school's officials about the expected date of the completion of the work has, with certainty reassured that the deadlines will be honored. In a particularly competitive educational environment where infrastructures are not always up to the expectations of students and even administrators, the Adventist secondary school gave the assurance, despite the galloping mediocrity that prevails in the educational system, to render a better service. According to Pastor Valère Assembe, one must always keep hope in order to fulfill the noble ambitions of this institution. He therefore said that: « We want to move towards modernity with new laboratories, especially with the advantages that computer technology offers us, in order to help those who want to modernize ». In an admonition taken from Matthew 7: 21-25, he challenged the audience to build on Jesus Christ, the Solid Rock.
Roger Belinga Belinga
Reporter