MID-YEAR MEETING: Treasury and Education departments' reports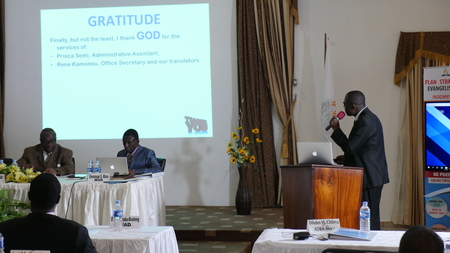 For this 04/05/2017, the main presentations were focused on the Treasury and the Education departments. The heads of these entities, Elder Emmanuel Manu and Pastor Juvenal Balisasa, presented their reports.
For Elder Manu, it was due time to stress on the financial challenges some of the unions are encountering. And this situation, according to him, is due to the devaluation of some of our currencies in some countries of the Division territory. Because of this, he admonished unions' leaders to collaborate in order to make things easy as they truly represent the Lord and serve Him. Elder Manu also called them to be honest in the little things as they serve the Lord. In so doing, they will properly manage the affairs of the Master. Without money, said Mr. Manu, it is impossible to go further as we plan to reach other places. We need money to finance campaigns and other projects and support workers in their various activities.
Under the same department, Elder Simeon Tanon Controller in the treasury department of the West-Central Africa Division was given an award by the GC as the first reconciliation agent.
The Director of education in his address, stressed on how to manage well our educational institutions. Giving new orientations and a good management of these institutions were debated by the participants. From the observations that came out, all agreed to entrust them to the care of the leaders of these institutions for a proper use to make the educational system function as it should be.
In the afternoon, the different participants came on stage for their reports. The observations so far made were the same. In fact, one could notice the considerable increment of the number of baptism in the various reports and the financial support in all the projects despite some challenges.
To put an end to this Mid-Year meeting that started from the 01/05/2017 and ended on the 04/05/2017, Pastor Andrews Ewoo during his closing address, admonished participants to observe the following 10 life principles in order to be a good leader: keep learning new things from God, keep loving God, keep laughing, keep leaving things of the past, keep dreaming and longing for better things, keep looking to Jesus, keep laboring, working, keep leaning on God, keep listening to the voice of the Lord, and keep letting go every offense. It was 5:30 P.M. when Pastor Ewoo said the benediction and thus put an end to the meeting.

By Nestor Bollet
WAD